When our mobility is reduced due to advancing years or a disability or illness, it is often essential to resort to some kinds of mobility aids.
The right aid is one that allows users to move anywhere and gain important areas of independence, and must also be able to provide greater comfort and well-being in the daily routine of our loved ones.
Choosing the most suitable one for our family members' needs is not always that simple, however, especially when the spaces at home and in other places where they need to pass through, involve the use of lifts, doors or narrow passageways.
Compact without losing any comfort
In these cases, the range of choices is reduced significantly and we need to focus our attention on solutions that can ensure the required compactness without losing any comfort.
Compact wheelchair
For example, if the choice falls on a folding, self-propelling wheelchair for the disabled and elderly, there are a number of compact versions that maintain the level of efficiency of a standard-sized wheelchair.
If we compare the "standard" Start model in the Ardea by Moretti product portfolio with the compact "Skinny" wheelchair, we can see that the structure has been redesigned and optimised to recover every possible centimetre of space. For example, the wheels are placed beneath the seat as opposed to outside it, recovering a number of centimetres in width. Conversely, the seat is available in various sizes with a minimum width of 40 centimetres while still ensuring a maximum load capacity of 110 kg and a maximum width of the wheelchair of no more than 50 cm.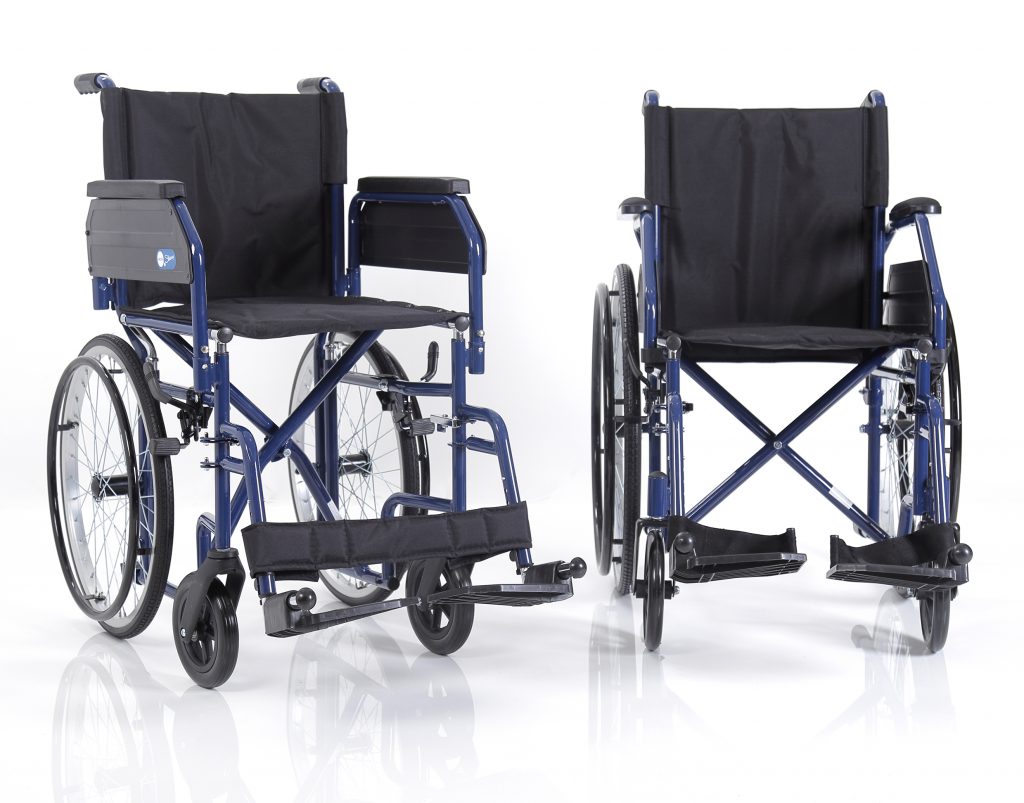 This figure really does mean that we can talk about compactness, as it saves 8 cm compared to the 58 cm of the standard wheelchair.
Skinny also has a double hole so as to be transformed into the transit model and reduce the size even further.
The alternative transit version to the Skinny is the Skinny Go, the sister model of the preceding one as regards the type of structure, with a single cross frame and painted steel; as regards the seat and the backrest, they are in washable black nylon padding and the footrests are extractable and adjustable in length.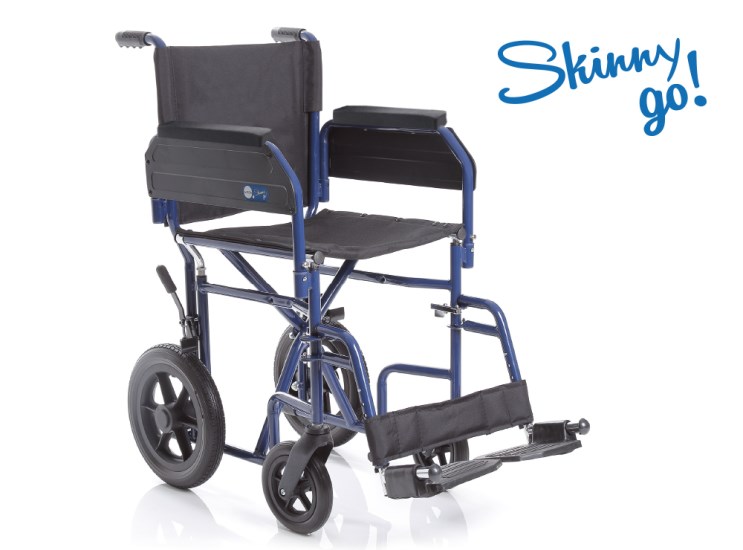 Skinny Go can also be transformed into self-propelling mode and is the most practical mobility solution for those who move accompanied by a caregiver or family member and want to gain easy access to narrow spaces, without needing to actually close the wheelchair.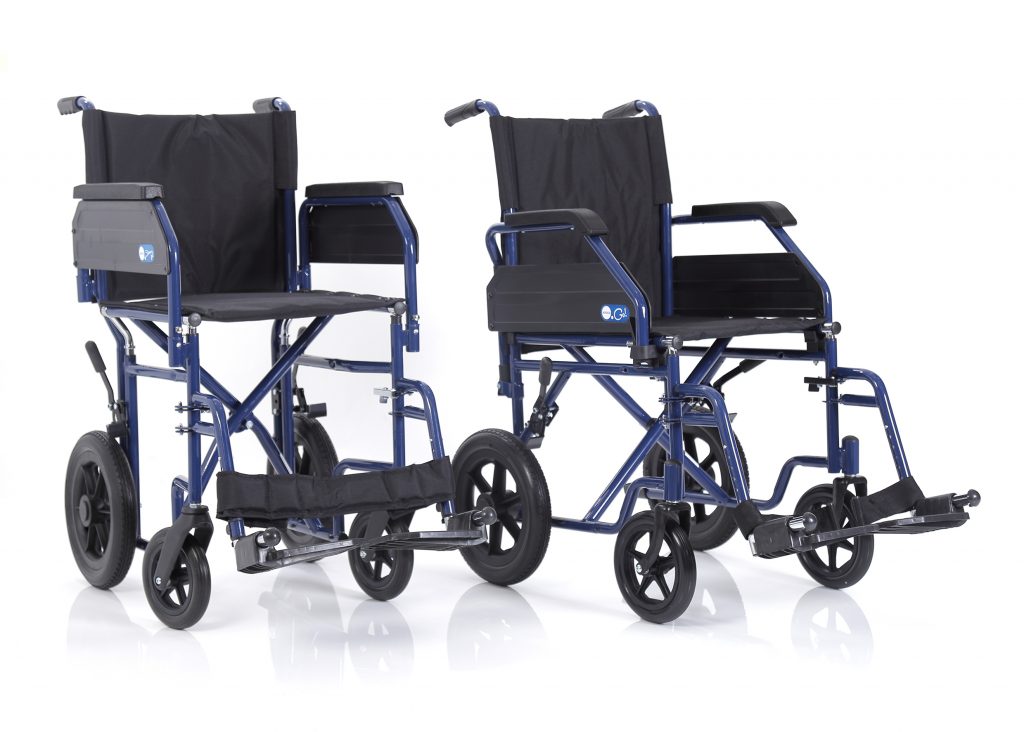 In addition to wheelchairs, the world of mobility aids also provides for compact solutions, for example, as regards walkers and rollators.
Compact walkers
The aim here is also to offer a valid alternative to standard-sized aids, while maintaining efficiency and reducing the volume.
There may be issues with walkers regarding size if they have, for example, underarm supports which often have significant heights and widths.
The Mopedia by Moretti range has, therefore, provided for a compact model, in the Click range of forearm and underarm walkers. It can be effectively adapted to persons of small build or who need a support which allows them to move safely even in narrow spaces.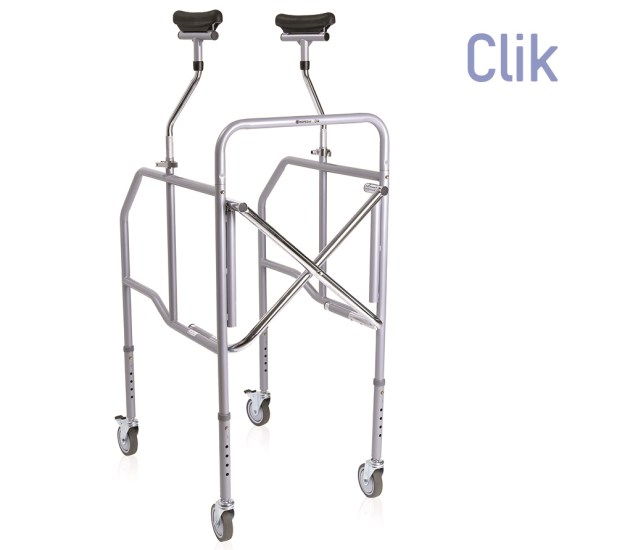 The Mini underarm walker in the Click range can be adjusted in height from a minimum of 1050 mm to a maximum of 1350 mm and the extendable underarm supports can be regulated from a minimum of 305 mm to a maximum of 365 mm and have a maximum lateral size of 575 mm
Compared to the standard model in the Click range with the same maximum load capacity of 130 kg, it provides a considerable saving of space, both in height and width.
Compact Rollators
Other types of aids which often have issues concerning size are rollators. They provide precious help when people need to move independently outside the house and often require reduced dimensions so as to be more easily adapted to urban requirements such as using lifts or when getting in or out of cars, or on or off public transport.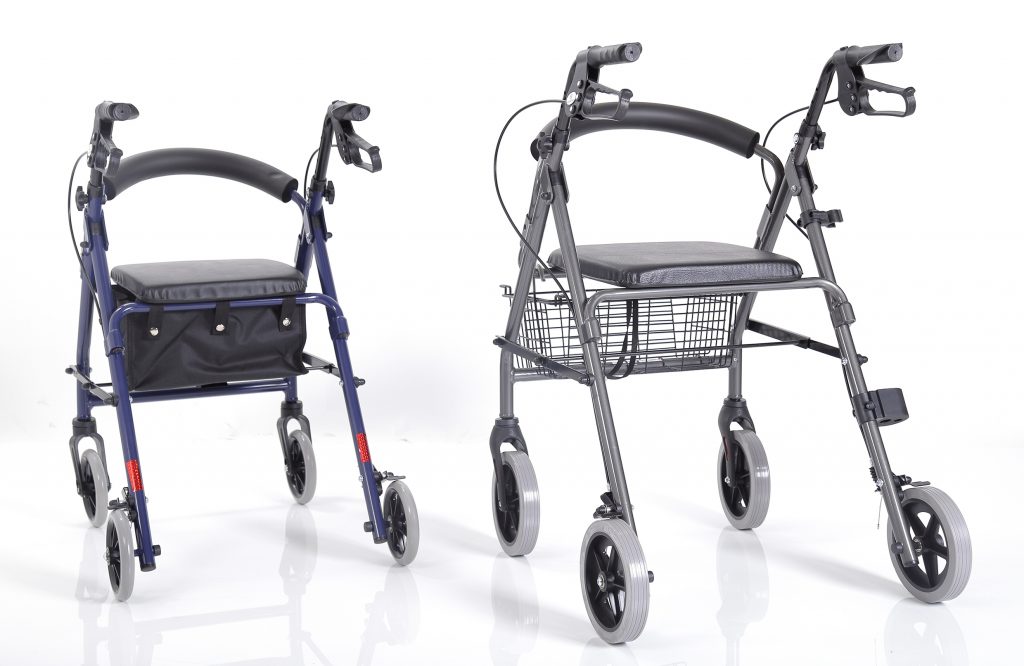 Moretti has thought of a solution here as well, with a Mini version in its product portfolio, represented by the model called Mini-Atlante by Mopedia.
While providing a maximum load capacity of 100 kg, the mini-rollator is compact in terms of height, adjustable from a minimum of 71 cm to a maximum of 84 cm, and in width measuring only 64 cm compared to 69 cm with the Standard Atlante rollator.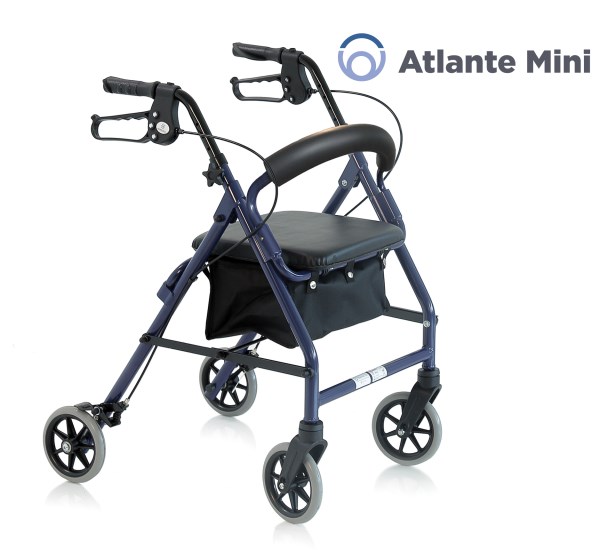 To contribute towards the reduction in size, there is a reduction of 5 cm in the diameter of the 4 wheels, moving from 20 cm to 15 cm in diameter; and the frame has been optimised in terms of dimensions but maintains its characteristics of stability and easy handling.
Both the Standard and Mini versions of Atlante have two swivel wheels at the front and 2 fixed rear wheels, connected to the braking system. The brake can be used as a simple brake or parking brake. The rollator is also supplied with a brake on both of the push grips which is activated by gently pulling the handle upwards; conversely, if you push the handles downwards until they lock, this activates the parking brake.
Lastly, Atlante also has a storage basket and height-adjustable anatomical grips with safety reflectors. It is easy to close, has a padded backrest in EVA and a seat that is padded and covered in PVC.
For further information on the range of compact items by Moretti, please contact your usual orthopaedics and medical supply store.