When our ability to move independently is reduced, as a result of illness, disability or age, our world becomes smaller and, in our own eyes, every movement becomes extremely complex.
A mobility aid, whether it be a simple walking stick, a walker, a rollator, a wheelchair or a scooter, extends our horizons once again, helping to restore both our independence and a general sense of well-being.
Scooters: when, how and why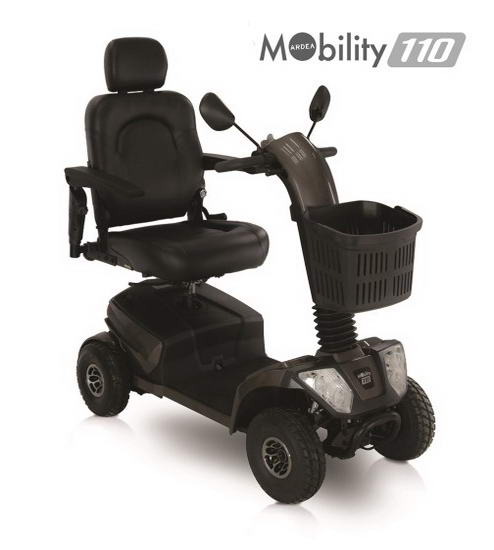 Electric scooters for the disabled or the elderly are a practical solution for independent movement inside and outside the home. Choosing a "mobility scooter" means providing our loved ones with an electric motorcycle that is easy to use, comfortable to sit on and totally stable when moving.
A variety of factors must be considered when choosing the model that best suits the needs of its final user, such as:
1. Indoors or outdoors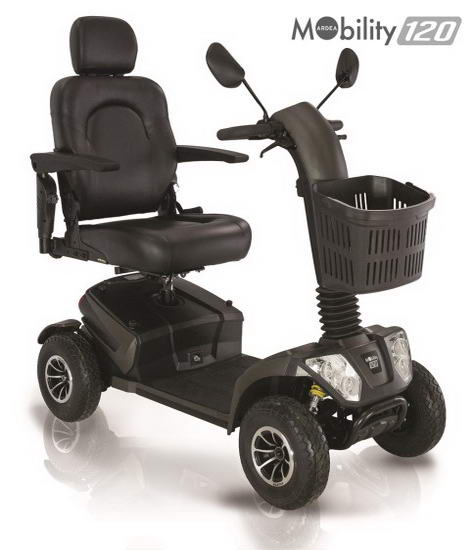 The first factor to consider when choosing the model is the main type of intended use. If the scooter will be used mainly in the home, it is best to choose models that are compact, easy to handle and have a low steering radius. A scooter that will be used mainly outdoors should be robust and solid.
The new Ardea Mobility range includes a full seven different scooter models. For mainly indoor use, we recommend a simple and compact Mobility 100.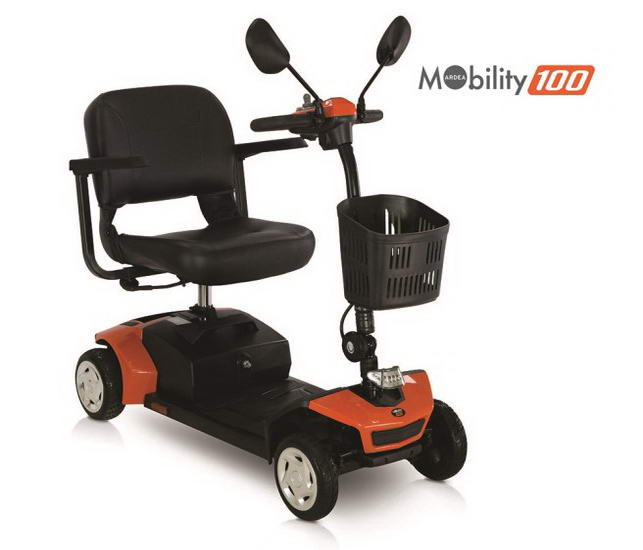 Mobility 100 has a maximum speed of 6 km/h, 20 km of autonomy and a maximum weight capacity of 135 kg.
The front is just 56 centimetres in width, so the user can move easily around the home.
2. Speed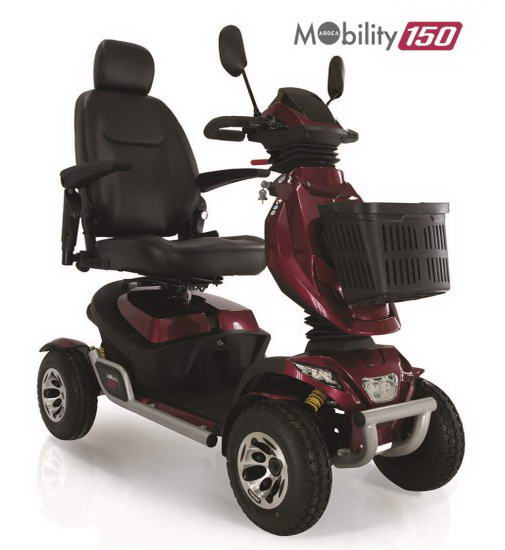 Another important factor is the maximum speed. If the scooter will be used mainly in the home, a maximum speed of 5/6 km/h is sufficient, whereas, for mainly outdoor use, a model that reaches a higher speed (within the maximum speed of 15Km/h laid down by regulations) and also ideal for travelling long distances is recommended. The new Ardea Mobility range satisfies all needs, with power from 700W to 1300W, and adjustable speeds that allow the user to move easily around shops or shopping centres.
3. The route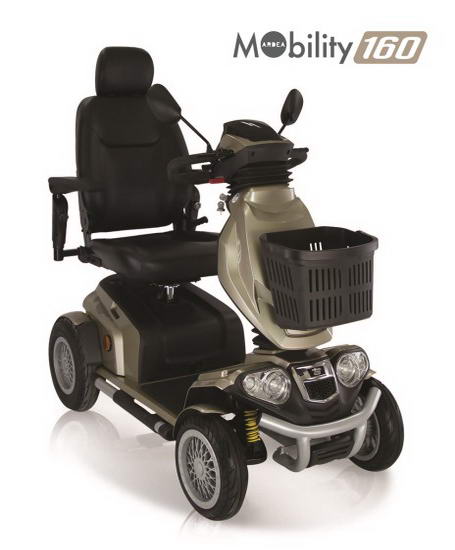 Once the main travelling area and consequently the most suitable maximum speed has been identified, it is worth thinking about the type of terrain that will be covered most frequently, and also the presence of any hills, ramps, narrow roads or other types of obstacles. In the case of hills or lengthy journeys, we recommend our most high-performance scooter: Mobility 160, with power of a full 1300W, maximum speed of 15 km/h, autonomy of 45 km, a weight capacity up to 158 kg and rear wheels that are wider than the front wheels.
For a correct assessment of the routes to be taken, it is also important to remember that, according to the Highway Code, cars for use by the disabled, which are medical aids according to current EU regulations, are not defined as vehicles, even if they have an engine.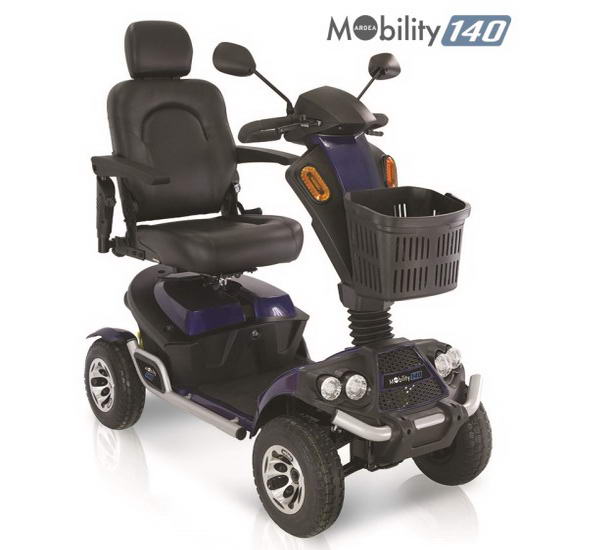 Circulation of scooters is therefore considered equivalent to pedestrian traffic and the rules of conduct laid down by Art. 190 of the Highway Code apply: it is therefore permitted to travel on the pavements or other pedestrian areas or, when these are not present, are interrupted or insufficient, or there are obstacles, the scooter must travel along the side of the road, in the opposite direction to the direction of travel of other vehicles.
4. Parking and transport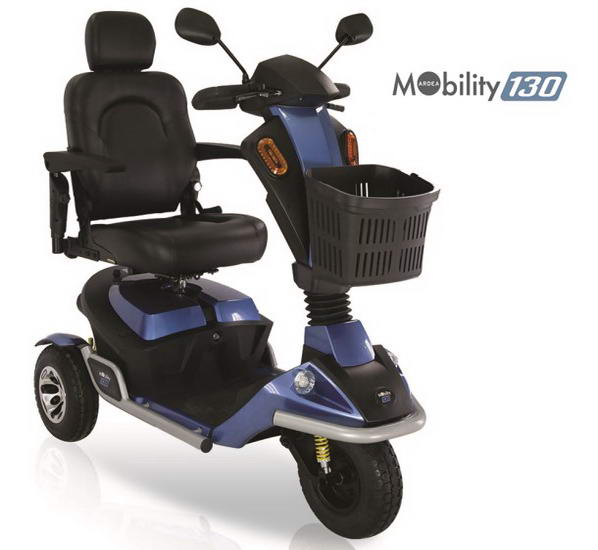 Another fundamental aspect to assess is the space to be used for parking and charging the scooter. The dimensions should be considered in every phase. A compact model can be stored in the trunk of a car, so it can be used to move around a city, during a fair or event or on holiday.
5. Frequency of use
The comfort of the seat and the possibility of adjusting it for easier driving is another aspect to consider. In the case of frequent use, the possibility of inclining the steering and the handlebar, widening, narrowing and inclining the armrests and the presence of a rotating and depth-adjustable seat, with folding backrest, is also important. All models in the Ardea Mobility range have driving position adjustments, which make the scooter even more simple to use.
Regolazione Inclinazione Braccioli

Sedile Girevole

Regolazione larghezza braccioli

Regolazione Inclinazione Sterzo
6. Safety
A major feature of mobility scooters is unquestionably their stability. They allow the elderly and disabled to move around independently and safely. However, certain specific features can contribute to this and should not be underestimated, such as the presence of rear-view mirrors, front and rear light kits with indicators and front and rear suspension. These are all standard features of the entire Ardea Mobility range.
Sospensioni Anteriori e Posteriori

Kit Luci Posteriori

Selettore modalità di guida, presa per alimentazione e porta USB

Kit Luci Anteriori

Specchietti Retrovisori
7. Extra features that make a difference
A final aspect to consider is the possibility of adding optional features that can make a difference. The Ardea Mobility range has, for example, baskets, trunks and bags for easy transport of a walker, a walking stick or crutch, in addition to a handy cover to protect the scooter and a wind shield roof for comfortable use during the winter months, to provide shade in the summer or protection in bad weather.
Borsa Posteriore con Porta Bastone o Stampella

Cestino Posteriore in Metallo

Bauletto Posteriore
Porta Deambulatore

Porta Bombola d'Ossigeno

Porta Bastone/ Stampella
8. Tax deduction
The scooters in the Mobility range are classified as medical aids according to European directive 93/42/EEC and therefore marked CE by Moretti Spa as the manufacturer. Therefore, in the case of direct purchase by the user, 19% of the purchase value may be recorded as a deductible expense on income tax returns.
9. National Healthcare Range of Fees
The scooters in the Mobility range can be supplied by the National Healthcare System, according to the principles established by Ministerial Decree (DM) 332/99 or by the Prime Minister's Decree (DPCM) of 12.01.2017 (in regions that have adopted the measure also in the part referring to the National Healthcare Range of Fees). The reference codes are indicated in the technical documentation.
Do you want to learn more about our new Ardea Mobility range? Consult the specific brochure or request more information on our range from your usual orthopaedics store.