Moretti SpA has made a donation for the purchase of a new ambulance for the Misericordia di San Giovanni Valdarno e Cavriglia association. We took the opportunity to ask Cristiano Lapini, who is responsible for management of daily services, to tell us more about this association and the excellent and essential work it does for the local area.
Hello Cristiano. Could you tell us about what you do?
Hello! I am responsible for management of daily services, the shift supervisor and the area manager for healthcare activities. I am also a first responder and ambulance driver. I have been doing this job for twenty-five years now.
Excellent, Cristiano. Who better than you to tell us what the Misericordia in Valdarno association is and what it does.
The Misericordia di San Giovanni Valdarno e della sezione di Cavriglia association is an extremely important and complex organisation. Every day, volunteers and our own personnel carry out patient transport, social services and coverage and management of ambulance emergencies.
Our internal organisation is formed of a chairman, nine directors and several employees, but our most important asset is our volunteers! They are the true driving force behind our constant solidarity initiatives.
Could you explain more about the services you offer
The day-to-day activities of La Misericordia are transport of patients from hospitals, for medical check-ups, tests and examinations.
In addition to patient transport, we also provide a range of genuine social services, such as accompanying patients or elderly people from their homes to the hospital, for dialysis, cancer treatments, rehabilitation or other treatments.
However, our most important service is the 118 emergency service. In collaboration with the other Misericordie del Valdarno associations, and on the basis of a specific shift timetable, we provide the Emergency and Urgent healthcare service, which is operative twenty-four hours a day.
And, I have to say, the list of activities does not end here.
What other services do you offer?
We provide funeral services and we also offer information and training courses to private individuals, aspiring volunteers and companies. The topics range from first aid to resuscitation, use of a defibrillator and anti-suffocation manoeuvres.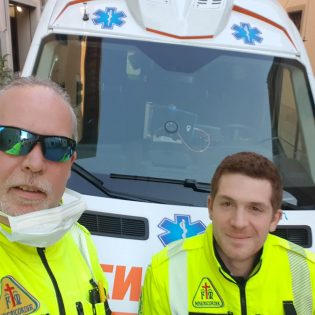 Misericordia and Covid. How are you dealing with this pandemic?
We are doing everything we possibly can! We have created a network with the other Misericordie associations of the area and are working on the front-line, where necessary. We were in Bergamo and Milan, in the most critical phases of this emergency, to offer our assistance.
You are a genuine example of solidarity. And also a precious asset for the local area. Would you like to offer an invitation to anyone who wants to learn more about what you do?
Absolutely! La Misericordia is always on the lookout for new ideas and our doors are always open to anyone who wants to meet us, understand us and form part of an association whose basic values are humanity and solidarity.
In practical terms, how does someone become a volunteer?
You need to have plenty of enthusiasm and be willing to take specific training courses. Being a volunteer takes a lot of hard work, and the enthusiasm grows as your skills and knowledge increase. It is a bit like reading a book: it may be hard to start with, but then you get hooked and you are reading all the time! Anyone who wants to know more can contact us at any time.
Excellent, Cristiano. Thank you so much for telling us all about the Misericordia di San Giovanni e Cavriglia association.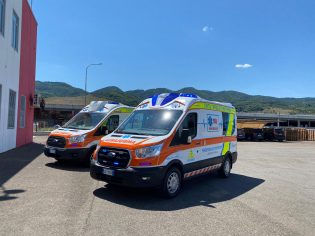 No, I should be thanking you! Thank you both for the attention dedicated to us and for your contribution. The donation from Moretti helped us to purchase a new ambulance.
We are happy to have contributed. We are simply helping an association that is truly essential for the local community.
Thank you and keep up the good work!