Weight is unquestionably one of the many factors to consider in choosing the best wheelchair for the mobility needs of people with disabilities and the elderly.
A wheelchair of "standard" weight has excellent characteristics in terms of stability and reliability, but it is often not the ideal solution for people who use it for a lengthy period or mainly independently, nor when, due to environmental conditions, they often need to get in and out of the wheelchair, in which case a lightweight and easy to handle wheelchair is essential.
It is precisely to satisfy these changing mobility needs that the Ardea by Moretti range has recently been extended and updated to include a new range of lightweight wheelchairs, ranging between 13 and 16 kg in weight.
The new range offers both self-propelling models (Smart, Pro, Dyne and Act) and transit models (Smart Go), with seats available in various sizes, from a minimum of 40 cm to a maximum of 50 cm. The maximum weight supported is 130 kg for the Pro model and 120 kg for all the others.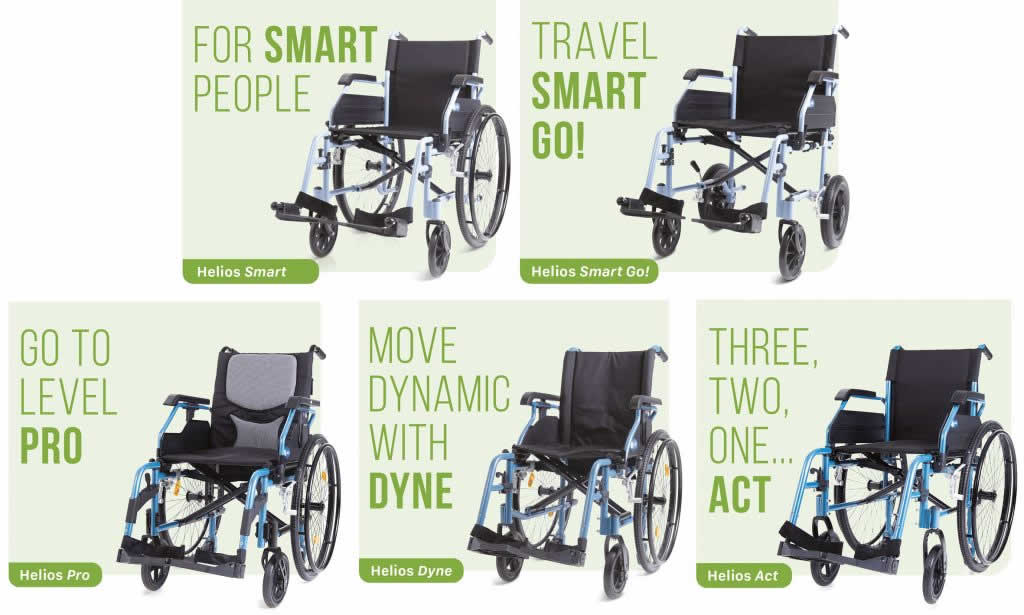 The new Helios range of five different models is characterised by the presence of a lightweight and folding frame, in rustproof, epoxy coated aluminium.
The five new Helios wheelchairs, which can satisfy specific comfort needs, in addition to being lightweight, are the result of meticulous design and review.
The new range totally satisfies the need for compactness, easy transport in a car and easy handling for both the user and the caregiver.
The wheelchairs also have rear-wheel radius movement, with rapid extraction (pin adjustable to several positions with respect to the frame for the Pro, Dyne and Act models), black wheels in PU with no inner tube, black-painted aluminium handrail, front wheels with aluminium fork adjustable to several positions with respect to the frame and inclined (for the Pro, Dyne and Act models)
The range also has an aluminium parking brake and a garment-protection side, with tip-up and extractable armrests with a PU surface and adjustable height (and depth for the Pro model).
The new Helios wheelchairs have a black nylon, padded and washable backrest, with a document holder on the back.
The other standard features are the tip-up and extractable platforms adjustable in length, with separate, black plastic footrests, with adjustable inclination on several models and a heel strap.
Consult our product catalogue or ask at your usual orthopaedics and medical supply store for more information on the Helios lightweight wheelchairs.