The current health emergency has caused us all to raise our cleaning and disinfection standards. Both at home and at work, where a large number of people are moving around, cleaning and disinfection have now become synonyms of "safety" and essential safeguarding of our health.
The emergency has forced us to seek, in the shortest time possible, innovative technological solutions that satisfy these needs promptly and allow ordinary operations to continue in full compliance with current regulations.
One of these solutions is offered by ozone generators: simple, efficient and safe machines that are used to sanitize the air and surfaces in an indoor environment.
Let us look at the details:
What are ozone generators?
Ozone generators are machines that produce ozone, a molecule formed of three oxygen atoms with a high oxidising power. Ozone can break cell membranes to inactivate viruses and kill bacteria, fungi, protozoa, pathogens, salmonella and mites.
Once activated, the ozone generator produces ozone until the environment is saturated and, as recognised by the Italian National Institute of Health (ISS COVID-19 Report no. 25/2020), by the Healthcare Ministry (Protocol no. 24482 of 31 July 1996) and by the Health Ministry (CNSA document of 27 October 2010), guarantees disinfection and microbiological sanitisation of the air and all surfaces present.
How they work
Ozone generators are formed of a high-voltage cylinder. The electric discharge produced converts oxygen into ozone and disperses it into the environment.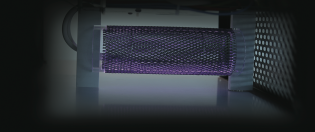 The ozone generators distributed by Moretti SpA also operate through the "corona effect", meaning they are based on an ozone production system that guarantees the highest quality standards and the longest machine life.
How to use them
Use of an ozone generator is simple and intuitive, but it is well to remember that, once the machine is in operation, it is necessary to leave the room and ensure that it is properly closed.Ozone is toxic, so it should not be breathed in.
When should an ozone generator be used?
An ozone generator should be used whenever complete purification of the air and surfaces of an environment between one use and the next is necessary. Its use is highly recommended in doctors' or dentists' surgeries, or even in indoor spaces such as shops or restaurants where there are intermittent phases of use.
Does ozone sanitisation replace disinfection of surfaces?
Yes, it replaces disinfection with disinfectants. Use of the generator creates an environment with healthy air and surfaces at the end of each cycle and, when combined with the rules of social distancing and personal protection, such as use of masks and frequent hand sanitising, it helps to protect our health.
Isn't frequent renewal of the air sufficient to keep it healthy?
Frequent renewal of the air is a good ally in fighting concentration of viruses and pathogens, but it is not enough in itself to guarantee sanitisation, and therefore elimination of all bacteria and inactivation of all viruses.
The features of the ozone generators distributed by Moretti
Moretti distributes two types of ozone generator, both of which are compact in size and intuitive in use. They are made from painted steel and have a corona effect ozone production system, capable of producing, respectively, 20g/h of ozone and 40g/h of ozone.
The 180 W model can be used to sanitise an environment of up to 300 cubic metres in the space of 40 minutes. The 260 W model extends sanitisation to a maximum surface of 1,200 cubic metres in the same space of time.
Air Control App
Another distinguishing feature of the Moretti ozone generators is the possibility of programming and tracking the sanitisation cycles performed through use of a smartphone app. In addition to allowing easy remote management of sanitisation cycles, the app can also provide certification of each individual sanitisation treatment.