When Julia Roberts is about to drink from a bottle in India, in the film "Eat Pray Love", a more seasoned traveller advises her to "always put something between yourself and India" and suggests that she use a straw.
In a certain sense, disposable gloves play the same role as that straw in our everyday lives. They create a barrier between us and the outside world and protect us against direct contact with objects or surfaces in communal areas.
Let us learn all about them in six points
1. Disposable gloves: know the different types
Latex, vinyl, nitrile, polyethylene. The main difference between disposable gloves is the material that is used to manufacture them.
Vinyl disposable gloves, typically used in hospitals, are malleable, pliant, elastic and soft. However, they are less resistant and sensitive than nitrile gloves.
Nitrile gloves are, in fact, elastic, resistant, sensitive and ergonomic. They are typically used by people who handle food or work in contact with chemicals.
They have a micro-rough surface, so they guarantee tactile sensation and fit snugly to the hands.
Natural latex gloves, on the other hand, are biodegradable and have a high level of tactile sensation, as well as being elastic, waterproof and highly resistant to holes and rips. They are normally used by doctors, dentists or beauticians.
Polyethylene gloves are the most suitable for protecting the hands and the objects handled against dirt. Although they are not very resistant, they guarantee excellent tactile sensation and are practical to use, both in the home and in a professional setting.
2. When to use gloves for protection against Covid-19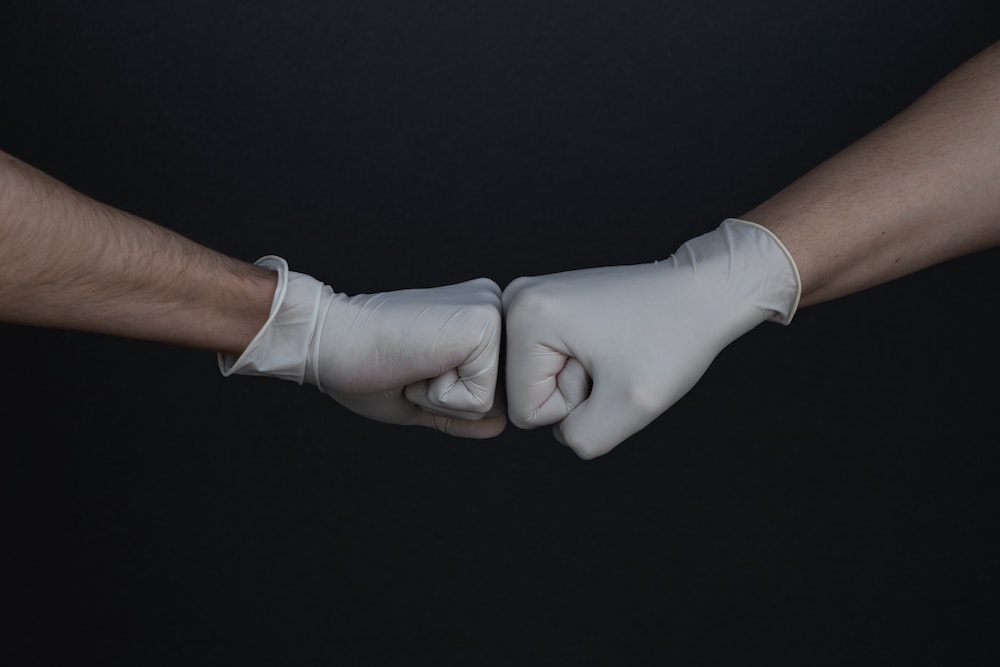 Before looking at the cases in which wearing gloves is a good idea, it is important to remember that the skin is itself an effective barrier against the virus. In other words, the infection does not pass through the skin of our hands, but we can become infected by touching a contaminated surface, with or without gloves, and then touching our eyes, nose or mouth.
Disposable gloves are essential personal protective equipment for carers looking after someone who is sick at home and in the hospital, as well as for cleaners and people who work in catering or grocery stores.
In limiting the spread of Covid 19, it may be sensible to use them when carrying out activities or going to places that necessarily involve coming into contact with surfaces or objects exposed to contact with other people, when it is not possible to wash and sanitise your hands until the activities are over.
3. Wear them correctly
Wash your hands thoroughly before putting on the gloves. Make sure that the gloves are the right size: they could rip if they are too tight and they offer less protection if they are too loose.
Check they are undamaged after you put them on and make sure they cover your wrists.
4. Remove them correctly
Try to avoid all contact with the outside surface of the gloves when you take them off, as it could be contaminated. To remove the glove correctly, you should pinch the wrist part between the thumb and index finger of your other hand.
Then lift the glove and slide it off, ensuring that it turns inside out.
To remove the second glove, slip your finger under the edge of the glove, then lift it and slide it off, once again ensuring that it turns inside out.
Wash your hands thoroughly after taking off the gloves.
5. Gloves and a "false sense of security": they are not a substitute for washing and sanitisation
Using gloves offers valuable assistance in fighting the infection, but is not sufficient on its own. Using a mask in any social setting, practising social distancing and washing and sanitising our hands frequently are all essential. Common sense is what is needed when using gloves and their use should never give a "false sense of security".
6. Correct disposal
The gloves should be used once and thrown away after use, into unsorted waste. They cannot be worn again after the first use. Discarding the gloves in the environment is not only an act of incivility, but also damages the health of others and the planet.