Choosing the right wheelchair or commode seat for our loved ones, something we have already discussed on other occasions, is a complex process.
Confirmation of whether the choice was right is obtained when it is used and frequent and prolonged use allows us to assess whether it satisfies the specific needs of the user.
In this second phase, it is essential to ensure that the chair is being used correctly, particularly insofar as concerns posture.
Sitting comfortably and properly is essential in a wheelchair. Incorrect posture must be avoided and correcting positioning of the various parts of the body must be guaranteed.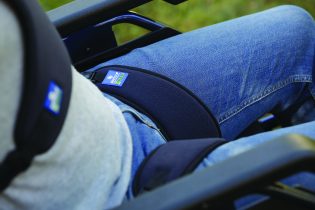 It is particularly important, for the well-being of our loved ones, to ensure that the torso and pelvis are correctly and securely restrained, to avoid slipping forwards and to guarantee safe and stable use in conditions of poor control or in the case of asymmetries.
Generally speaking, it is important to remember that a correct posture not only determines how we relate to the outside world, but also allows us to use the wheelchair in conditions of stability, with proper distribution of loads, reduced pressure on muscle and joints and optimal use of the arms.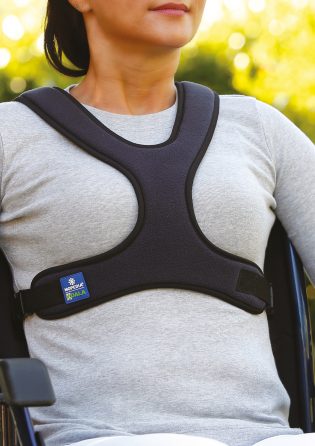 In cases where spasticity, asymmetries of the pelvis, axial deviations or muscular problems are present, however, every action must follow the fundamental rule of correcting and improving posture, when this is possible, and accommodating and supporting the user when it is not.
The posture of a wheelchair user must always be considered, assessing whether simple and quick to use accessories are needed, such as harnessing and restraint systems.
The Koala range of harnessing systems is not only extremely comfortable, as the straps are manufactured in padded fabric, but also highly versatile, as they can be adjusted in length to adapt them to any type of seat.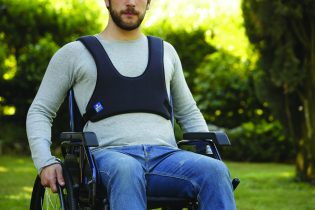 These systems, which always have an emergency quick-release system, restrain and secure the torso with a chest strap. They can also be formed of versatile, girdle chest belts for men and butterfly-shaped ones for women, which avoid pressure on the bust.
This category also includes pelvic straps, which prevent the user from slipping forwards.
The belts, available as combined or separate straps, secure the legs to the wheelchair.
It is also possible to use wrist straps and safety belts to ensure the user is firmly secured in the wheelchair.
For more information on correct use of the harnessing and restraint systems, contact your doctor or ask a specialist for advice.