In "Quanno chiove", the Italian singer Pino Daniele sang "Tanto l'aria s'adda cagna", which roughly translates from the Neapolitan dialect as "a change of scenery is necessary anyway".
This song is particularly fitting to the moment in history we are experiencing: we could all do with a change of scenery, obviously in full compliance with the current regulations and limits. The time has come to protect our own and our loves ones' physical and mental well-being with a "change of scenery", regaining our personal independence and starting to go out again.
Spring is here again and it is the perfect time to get back to an everyday life that is as independent as possible. Now is the time for us to rediscover the good habits that gave us so much pleasure, allowed us to express our tastes and desires and to make independent choices, as masters of our own time.
For our loved ones, independence can mean being able to move around the town or city autonomously, managing short journeys, small errands and personal commitments on their own.
A scooter for the elderly or people with disabilities is a valid ally in a free and active life, a means of regaining personal freedom and organising their days independently, simply and safely.
The new Ardea Mobility range of Moretti SpA provides specific solutions for the most diverse mobility needs, offering everyone the chance to get going again and regain or discover the joys of independence.
Let's take a detailed look at the main features of the new Ardea Mobility scooters:
1. Scooter by definition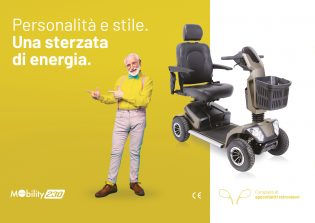 If you have ever ridden a moped, a motorbike or another type of two-wheeled motorised vehicle in the past, you are unlikely to have forgotten the sensation of freedom you felt on every trip. The new range of scooters offers you the best performance and a meticulous and attractive design that will make you feel like you are back in the saddle once again!
2. Modularity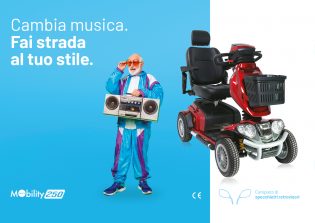 What is your routine? What trips would you take on your new scooter?
Our range offers a specific solution for every type of use and user. For example, Ardea Mobility includes a compact and unbeatably easy to handle model, ideal for anyone who, due to their build, parking needs or need to transit in narrow spaces, is looking for a compact and simple solution.
The entire Mobility range does, in any case, include solutions that guarantee over 54 km of autonomy, with motor power up to 1650W. These are technical features that make a scooter a genuine travelling companion for long distances or sloping terrain.
3. Design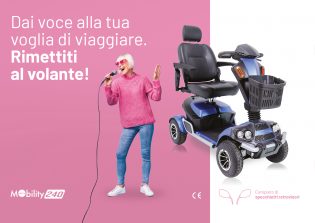 The visual features of a car often tell us a lot about its user. This is even more so in the case of a motorbike or a scooter.
With this purpose in mind, and also to ensure that anyone using our mobility aids feels totally at ease, we have redesigned and updated the design of our scooters to make them even more attractive and steadfast.
With Mobility, you can choose between seven different models for the one that best suits your personality!
4. Practicality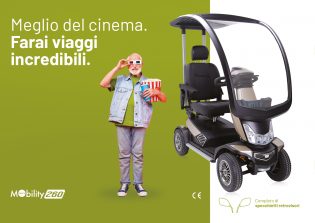 Where do you want to go with your scooter? What do you want to take with you and what do you want to carry on your scooter? When will you use it?
In redesigning our range, we have used your experience in use to improve and update the optionals available on our models, in order to satisfy practical, everyday needs as well as possible.
Our scooters have a front basket or a larger, extractable rear one. Several models also have accessories such as a compartment for a walking stick, crutch or walker, a rear case, oxygen canister compartment and a wind shield roof.
5. Safety
With this new range, we overcame the difficult challenge of increasing the power and driving performance while still reaching the highest safety standards.
Our scooters are stable, secure, comfortable and easy to drive, while still being stylish and steadfast, keeping the promise of a pleasant and fun driving experience!
Consult our product catalogue to learn more about the new range of scooters