The recent Paralympics offered a display of courage and determination that should remain firmly etched in everyone's memory for a long time to come.
The smiles of our sprinters and the grit of fencer Bebe Vivo delighted and captivated us all. These athletes also taught us a valuable lesson, by showing us their strength and that the impossible (in our eyes) is possible. 
It is our hope that these Paralympics shone a spotlight on motor disabilities and on the importance of an inclusive, accessible and accepting world. 
A person who lives with a disability faces obstacles, discrimination and architectural barriers every day of their lives.
Even now, the issue of architectural barriers is still important enough to merit our attention. 
Law no. 13/1989 dealt with this issue, establishing the terms and the methods through which accessibility must be guaranteed, particularly in public places.
In detail, this law establishes the terms and the methods through which to guarantee accessibility for everyone and lists the criteria and measurements needed to simplify the life of the elderly and people with disabilities. 
However, where structural interventions are not possible, constructing accessible buildings with no architectural barriers or with disability ramps integrated into them, in both the public and the private sphere, it is essential to plan for mobile platforms that can be used when needed.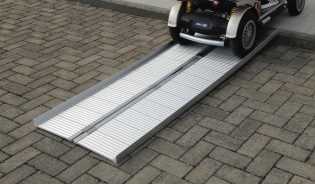 Portable and folding mobile platforms are a secure and durable solution, as well as being easy to use and to transport, and can be used to deal easily with steps or height differences. 
Their use, when a structural intervention is not possible, or when mobility needs have changed or are transitory, guarantees freedom of movement for anyone who has difficulties in walking.
They are available in a wide format or with tracks, and adapt to every need. 
The wide and fixed format platforms allow easy transit for both the wheelchair and the family member or caregiver providing assistance. 
On the platforms with tracks, the width between the tracks can be adjusted and they are designed to be as flexible as possible in satisfying the need for movement with any type of mobility aid.