Weighing yourself is not a question of your figure, but rather of your health.
In the medical field, checking body weight does not just provide a reference value on which to base the choice of treatment, but actually offers a brief and essential indicator of well-being.
Excess weight is not good for the health and being overweight increases the risk of health issues such as heart problems, high blood pressure, type 2 diabetes, arthrosis and sleep apnoea.
The degree of risk is influenced by the relative quantity of excess weight, the location of the body fat and the amount of physical activity. A study by a group of academics at the University of Columbus in Ohio has demonstrated that around 7.2% of deaths in the over fifties is directly caused by an increase in weight.
In a medical environment, professional body weight scales are used to check weight and how it progresses over time. These are non-automatic scales and have specific certifications.
Our scales for professional medical use are certified according to the European Medical Devices Directive, approved in class III for precision, and conforming with directive 2014/31/EU (NAWI – Non Automatic Weighing Instruments) for weighing instruments.
All the scales in our range are accompanied by a testing and inspection report and a test certificate with the serial number.
The types offered satisfy, with the highest quality standards, the care needs of physicians, paediatricians, sports centres, hospitals, rehabilitation centres and care homes for the elderly. 
The range includes models that are equivalent in terms of functions, but differ in the load-bearing capacity and the intended use.
The most important functions of professional scales are:
BMI or Body Mass Index:
the scales show the body mass index, which is used as a benchmark for obesity screening studies on the population. BMI is not an indicator on which to assess the actual body composition and does not allow the effective distribution of fat in an individual to be identified.
BSA – BODY SURFACE AREA
This is an important parameter for assessing specific nutritional or drug treatment programs, as well as being a metabolic mass indicator.
HOLD
This function can be used to calculate the weight as a function of an average, when the patient does not hold still.
Our range includes portable professional body weight scales, models for patient hoists, infant scales, column, platform or chair versions, with standard or bariatric load-bearing capacity.
Let's take a look at the main types:
Portable scales
These are floor scales and have adjustable feet, a non-slip surface and spirit level. They are light and easy to carry and have a painted aluminium base and LCD display.
Several models have accessories such as a thermal printer and a display that can be connected to the Internet and a PC for simple management of patient data.
They are available with a load-bearing capacity up to 200 kg or up to 300 kg.
Column scales
These scales have a floor-standing base with a wide platform and a one-metre high column. They have a display that can be connected to the Internet and to a PC and have accessories such as a telescopic altimeter and thermal printer. They have a capacity up to 300 kg, adjustable feet and a spirit level.
Platform scales
These scales are designed to meet specific needs and therefore have a wide platform for easy use and a handrail to offer firm support to people who have balance and stability problems. They have two wheels for easy movement, a two-readings display, as well as a telescopic altimeter and an optional thermal printer. They have a capacity up to 300 kg
Chair scales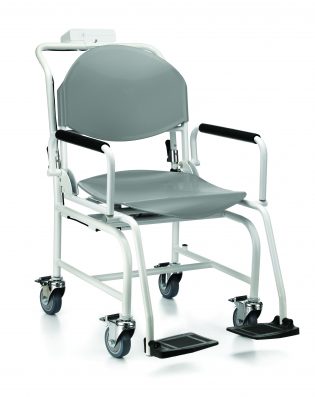 These are actual chairs, with tip-up armrests, folding footplates and four castors with brake. They are compact and easy to assemble and transport. A thermal printer is also available for these scales. They have a capacity up to 250 kg.
Bariatric chair scales
These are large chairs, with padded backrest and armrests. They are easy to assemble without tools and have wheels with brake and an optional thermal printer. The display can be positioned on the side or on the back.

Platform scales
These are platform scales with two integrated ramps for easy access. They have a handle and wheels for transport. Optionals include a thermal printer, a display support and a handrail on the right-hand side. They have a capacity up to 300 kg
Baby weighing scales
These scales have a tray with high sides for safe use. They have adjustable feet, a display and integrated anti-tipping tray. A thermal printer and an altimeter are available as optionals.

Scales for patient hoists
These models have specific attachments compatible with Moretti patient hoists and have a capacity up to 300 kg.