The most frequent problems associated with immobilisation syndrome include bedsores or lesions.
These lesions affect the soft tissues of the skin, the subcutaneous layer, fat and muscles, which are squashed between the mattress or seat of a chair and the overlying bone. Their most frequent cause is therefore interruption of the blood flow for a lengthy period.
Bedsores are also often associated with orthopaedic or neurological pathologies, a period of recovery after surgery or people in comas.
Several factors contribute to their occurrence, such as the use of an excessively rigid mattress or seat surface, urinary or faecal incontinence, extreme thinness that causes bones to protrude, excess body weight or obesity such as to result in poor blood supply to adipose tissue.
The early signs of bedsores include reddened skin, followed by a gradual deepening of the lesion as far as the subcutaneous layer, the muscle and adipose tissue, to the point where areas of necrosis form in the most advanced stages.
Depending on the depth of the lesion, bedsores are usually classified into four different stages, in increasing order of gravity.
Treatment and prevention of bedsores requires specific procedures, with both local and systemic treatment to be assessed case by case. Generally speaking, it is a good idea to combine frequent patient mobilisation procedures with the constant use of aids that relieve and redistribute surface pressure.
It is precisely with the intention of responding with specific solutions to the prevention needs of anyone who is forced to remain immobile, due to illness, old age or surgery, that Moretti SpA has revised and expanded the selection of Piuma Up products in the Levitas range.
The "Piuma Up" brand currently comprises a broad and revised range of specialist products, air mattresses with a compressor, as a dynamic anti-decubitus solution for patients with bedsores up to stage four.
The range also offers specific products for the most problematic and complex cases, with seven different kits formed of a mattress, compressor and mattress cover.
The "Piuma Up" range is available in four different solutions: Piuma Up 1 and 2 for bedsores up to stage 2 and Piuma Up 3 and 4 for the higher levels. The Piuma Up 3 and 4 products include seven different types of kit, comprising a mattress, compressor and padded cover.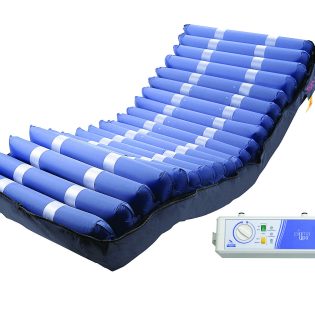 The "Piuma Up 3" kits have 5-inch (around 13 cm) air mattresses, designed for bedsores up to stage 3, or 8-inch (around 20.5 cm) air mattresses, suitable for bedsores up to stage 4.
The mattresses in the Piuma Up kits are also available in two versions: nylon/PVC or nylon/TPU, with a manual compressor with a static/alternating function and acoustic and visual low-pressure alarm.
The "Piuma Up 4" kits, on the other hand, are designed for bedsores up to stage 4 and have 8-inch (around 20.5 cm) air mattresses in nylon/PVC or nylon/TPU and a digital compressor equipped with a static/alternating function, a "max firm" and "seated" function, as well as a visual and acoustic alarm indicating low pressure, power failure or service problems (malfunction).
With the "seated" function, the compressor adjusts the mattress inflation to favour several areas and offer optimal support. With the "Max firm" function, the mattress inflates completely, like a normal mattress, to assist in cleaning and maintenance operations.
The "Piuma Up 4" compressor also allows the cycle duration to be selected, establishing the alternation time in four different inflation and deflation cycles, and access to the compressor control panel via a safety unlock button.
The 13-centimetre mattress is formed of seventeen elements, eight of which are micro-perforated, and the 20.5-centimetre mattress is formed of twenty elements, once again with eight of them micro-perforated.
All the compressors are easy to connect to the mattresses, due to the presence of quick connectors, which also have a closure cap for transport (making the mattress easy to move when disconnected from the compressor, without it deflating rapidly). There is also a CPR valve for rapid deflation in an emergency and it is possible to select the static or alternating function, in order to obtain a massaging effect through cyclic compression of the different areas of the body, with only the first three elements remaining static, to act as a pillow.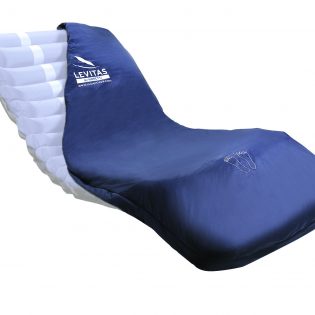 The kit also includes a padded cover in biocompatible, waterproof and breathable PU, tested according to European fire reaction regulations, with a zip on all four sides for easy removal and cleaning.
As an optional, the range includes a bi-elastic and antimicrobial "stretch" cover, which is also waterproof and breathable and tested according to European fire reaction regulations.
Contact us or ask at your usual orthopaedics or medical supply store for more information on the Piuma Up 3 and 4 kits in the Levitas range of Moretti SpA.