"Sit up properly, straighten your back…"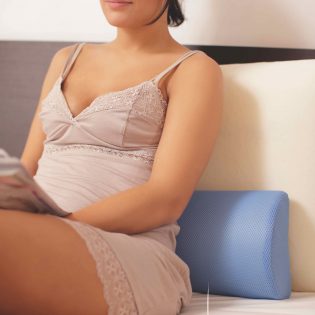 We are used to hearing a teacher saying this to pupils, but we are often unaware that the proper position and correct posture are equally important in bed.
The position in which we lie in bed before falling asleep has a decisive effect on the quality of our sleep and the state of our health.
Correct posture, on the other hand, can help prevent problems such as headache, backache or neck pain, and contribute to reducing gastroesophageal reflux, sleep apnoea, heartburn and circulation problems.lower-back.
Where to start?
Each of us knows the weaknesses or comfort needs of our loves ones and a good plan of action cannot fail to include both awareness of the situations in which we tend to assume an incorrect posture and of the problems that most frequently undermine our well-being.
Once the postures to be corrected have been identified, we can seek the best solution.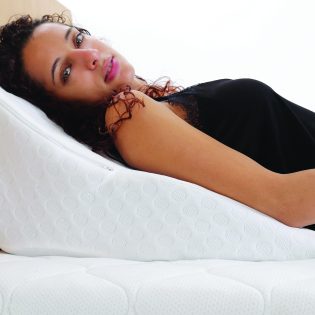 In many cases, a good solution is use of a positioning cushion.
What is a positioning cushion?
A positioning cushion is a cushion specifically designed to support one or more parts of our body, in order to relieve lower back pain, improve circulation in the legs, allow correct alignment of the pelvis, knees and backbone or the neck, shoulders and lower back, to cite just several examples.
A half-cylinder, semi-cylinder or modulable positioning cushion can be used for various purposes. Positioning it under the ankles or knees helps rest the legs, while placing it in the lower back area provides additional support to the back.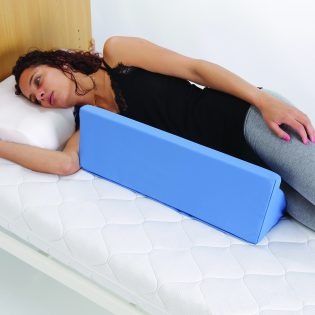 Positioning cushions can also have anatomical shapes, designed specifically to adapt to the shape of the legs, in order to align the pelvis, knees and backbone properly while sleeping. These cushions relieve pressure on the lower part of the back and improve blood circulation while sleeping. 
The range of positioning cushions also includes ergonomic models, which typically have a triangular or "double wave" shape.
In the first case, depending on the specific shape of the cushion, it can be used to relieve gastroesophageal reflux, by positioning it underneath the back, to relax the legs or to obtain a correct position when lying on our side while sleeping.
In this latter case, use of a triangular positioning cushion may provide useful support during a period of recovery after surgery, in home medical assistance or physiotherapy.
The "double wave" cushion has an ergonomic shape and can be used both to raise the legs higher than the chest and also vice versa for more comfortable rest for sufferers of gastroesophageal reflux.
Its shape is ideal for relaxing limbs after trauma, or in the case of phlebitis, calf cramps, painful or tired legs.
For more information on the Opera range of positioning cushions by Moretti SpA, contact us!