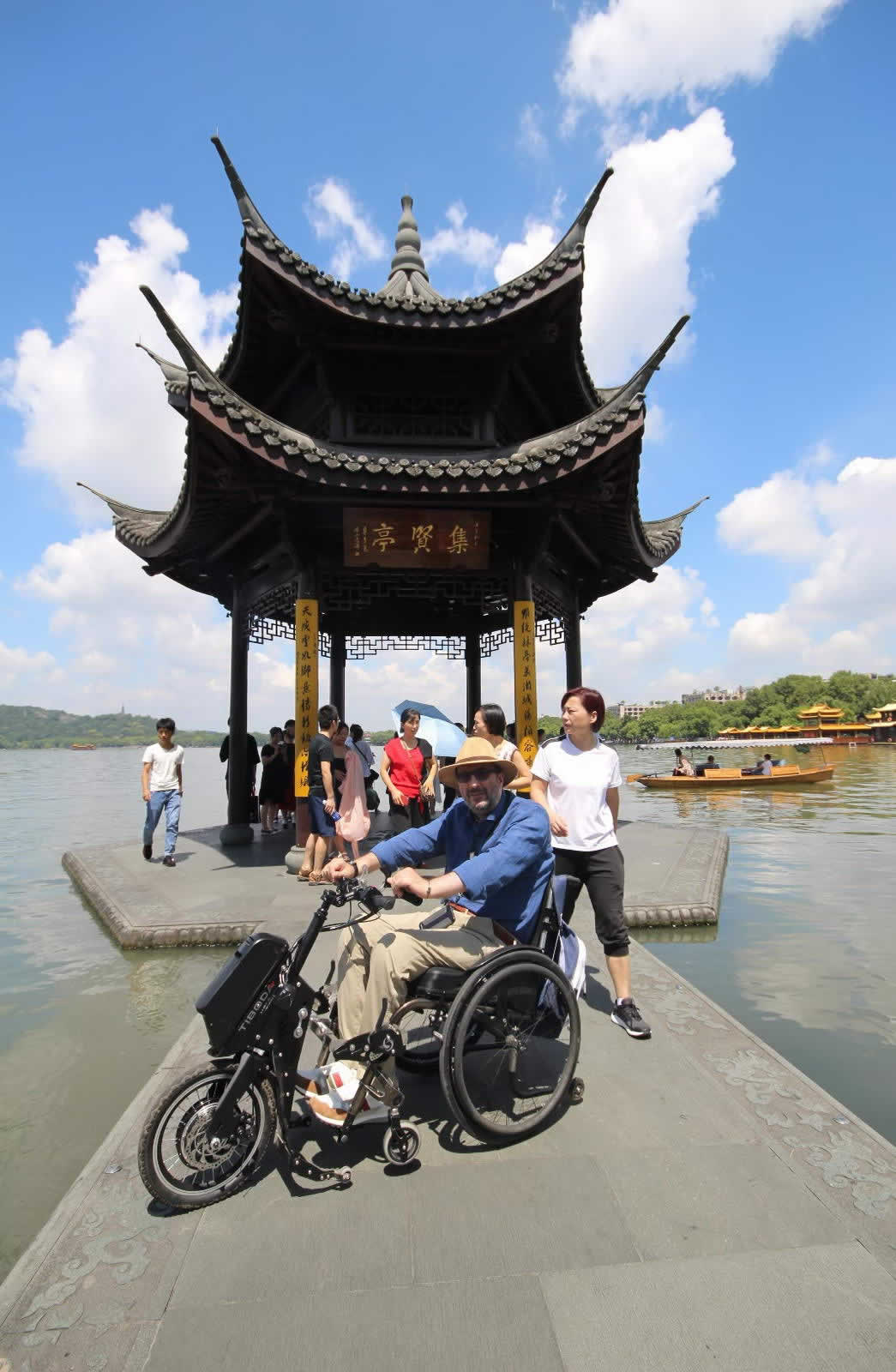 Today, we are going to tell you about the experience of Alberto Arenghi, Associate Professor of Technical Architecture at the Department of Civil Engineering, Architecture, Territory, Environment and Mathematics at Brescia University, who has been driving a Tiboda since last summer.
Hello Alberto. Your experience driving a Tiboda is recent, but considerable: you went to the Far East with Tiboda, on a trip to China. Would you like to tell us about your adventure?
I travelled with my Tiboda to Hangzhou, a city around two hundred kilometres from Shanghai. I only started using Tiboda on 20 August, but I loaded it onto a plane on 25 August and off I went!
What was it like driving your Tiboda in Hangzhou?
Hangzhou is an accessible city from every standpoint. Perhaps because it is designed more for cyclists than for disabled people, it has ramps on the sidewalks pretty much everywhere. Tiboda was essential in allowing me to explore the city and allowed me to be independent.
A little while ago, on the Moretti Facebook fanpage, we published a post on a young woman (Ilaria Naef), actually an athlete, and one of the many things she said was that "I see my wheelchair as my wings". Could the same thing be said about Tiboda? What is it for you?
Well, yes, you could certainly say that Tiboda is my wings! Being able to move around with Tiboda has allowed me to regain my independence after many years. I can finally go out on my own and move around without making plans or having to tell people where I am going.
People who live with disabilities often have a strong desire to live life to the full, which requires courage and a need to test themselves and push themselves to their limits. Do you agree? Is this what it is like for you?
Absolutely! I became disabled shortly after graduating from university, but that did not stop me from pursuing my chosen career. A disability imposes limits, but aids like Tiboda offer a huge help in overcoming them.
So far, we have talked about challenges and adventures, but our true hope is that Tiboda has improved your day-to-day life and made you independent in your everyday movements. Would you tell us how your routine has changed?
I use Tiboda every day, to travel from my home to work independently and I must say that this drive unit has given me my freedom back and allows me to live my everyday life more easily.
For example, I no longer need to plan every second of my day beforehand and I can deal with sudden changes in schedule or commitments on my own.
It has saved me time and energy.
We are imagining you driving around Brescia. Have you noticed any curious looks? How do the people you meet react when they see you driving Tiboda?
I take the same route every day, so I often encounter the same glances. A smile or a greeting have now replaced the initial curiosity. Society has accepted my diversity and that is very important to me.
Let us go back to Tiboda for a moment: why did you choose it? had you already tried other drive units? does it have one feature that makes it the best? or perhaps a feature you do not like? something you would like to change?
I have tried four drive units, one very similar to Tiboda in terms of dimensions and weight and two lighter ones.
Right from the start, I was looking for a fairly heavy drive unit, both because I am tetraplegic, so I need stability and security, and because my daily journey includes a steep gradient, which I believe is as much as 10%.
However, the feature that made me choose Tiboda is unquestionably its coupling and uncoupling system. It requires just a quick and simple gesture, which I now perform virtually automatically, without even noticing I am doing it.
One change I would make is to add a baggage rack, so I can carry everything I need easily.
You are a university professor, a lecturer who deals with young people and other lecturers, etc., every day. Do you have a message about disability for them?
Yes, and it is an important message, something close to my heart, because I have researched it directly, as part of my work. It concerns accessibility, which I would like everyone to perceive not so much as logistical interaction, but rather as human interaction.
Wider use of drive units is also important here.
Nowadays, at least in Brescia, wheelchairs and drive units are already prescribed on leaving hospital, as they are essential to improving socialisation of people with disabilities. However, clear regulations on use are still absent.
For example, I use the pavement for safety, but perhaps I should be using cycle paths.
Thank you Alberto, your experience is precious for us!
Thank you and greetings to you all