After the long winter of the pandemic, the initial reopening has reawakened our desire for some freedom.
With a sense of responsibility and in compliance with the rules of social distancing, we can now choose to go for a walk outside in total safety. A carefree moment spent outside the four walls of home that benefits our physical fitness and our mental health at all ages.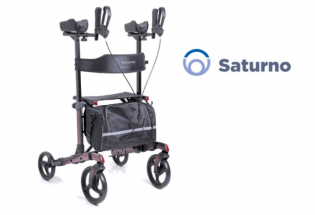 Even just a short walk outdoors is a healthy habit for us and for our loved ones and one that helps prevent the effects of ageing, as well as helping the elderly maintain independent movement, exercising the heart, fighting obesity and reducing anxiety and depression.
However, before putting on a pair of gym shoes, we need to check the degree of independent movement of our loved ones, such as how steady they are on their feet, the frequency with which they need to sit and rest, and also the conditions of the terrain or any obstacles they may come across.
In all cases of uncertain or unsteady steps or weakness, it is worth assessing the use of outdoor walking aids. These are otherwise known as "rollators"
Rollators are walkers with two, three or four wheels and a fixed or folding frame. They are manufactured in steel or in aluminium, which is lighter.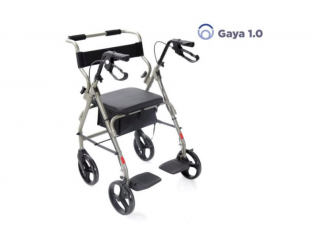 Rollators are agile and easy to handle outdoor walking aids, designed to accompany the elderly, people with disabilities or anyone undergoing a rehabilitation process in their day-to-day activities and in complete safety.
Rollators have castors or fixed front wheels and dual-function brakes on the rear wheels.
The height can be adjusted to adapt them perfectly to the physical characteristics and space needs of the user. They can also have specific reduced overall dimensions or a load capacity up to 200 kg.
Walking aids are designed to offer total support in day-to-day activities. They therefore have added functions and options that can be chosen to suit specific needs.
Many models have a seat for when the user needs to rest, while some also have a genuine "transport" function, such as a rollator that can be transformed to double as a transit wheelchair, in order to allow assisted movement of our loved ones.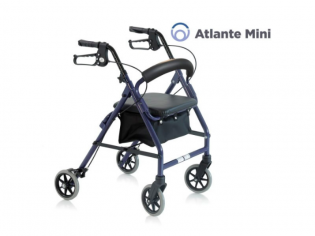 What distinguishes one rollator from another is the weight of the frame and the size of the wheels, such as those for easy movement on uneven ground, and the possibility of attaching baskets, reflectors on the front wheel fork and handles, as well as a padded backrest and seat for the utmost comfort.
Discover all about the Mopedia rollators here